Activists and indigenous peoples on Wednesday, October 26 filed charges against policemen following the forceful dispersal of protesters during a recent rally in front of the US Embassy in Manila.
These people under the Sandugo group filed a grievance before the Office of the Ombudsman against National Capital Region Police Office chief Oscar Albayalde, Manila Police District deputy director for operations Marcelino Pedrozo, PO3 Franklin Kho and seven others.
The group is fighting for the charge of 10 police officials for multiple attempted murder, serious physical injuries and unlawful arrest are.
The group quoted the policemen committed obstruction of justice, grave misconduct, grave abuse of authority, and conduct of unbecoming of a public officer.
"To set a precedent for the promise of justice under the new administration by filing a case against the 10 policemen" said Jerome Succor Aba, a more leader and co-convener of Sandugo is what they are seeking to.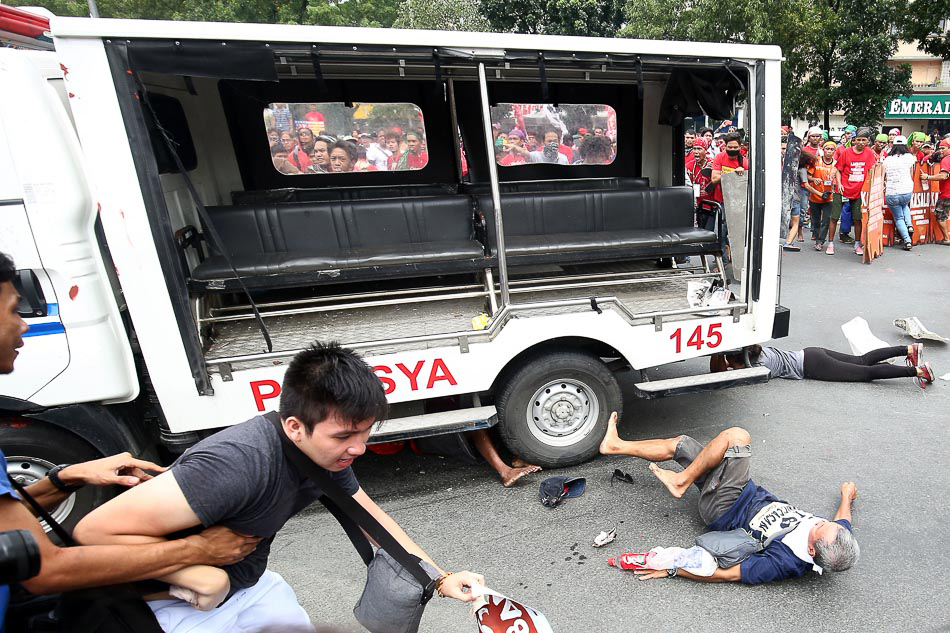 Photo from ABS-CBN News
Aba further said "there is no place for the likes of Senior Supt. Marcelino Pedrozo and PO3 Franklin Kho, and the rest of the 200 PNP personnel who did the violent dispersal, in this government that has sincerely taken steps towards just peace and independent foreign policy."
The governments' motive to seek a strike of peace deal with the communist movement which supports the marginalized IPs caused the violent dispersal which saw Kho running over several protesters with a police mobile.
Efforts by the government and the Left to reach a peace deal could be at hurt because of the violent dispersal since the militants also asked the Joint Monitoring Committee (JMC) of the peace panels of the government and National Democratic Front of the Philippines are called to investigate the commotion.
JMC's role is to monitor any violation of the provisions under the Comprehensive Agreement for Respect for Human Rights and International Humanitarian Law signed by the government and the NDFP.